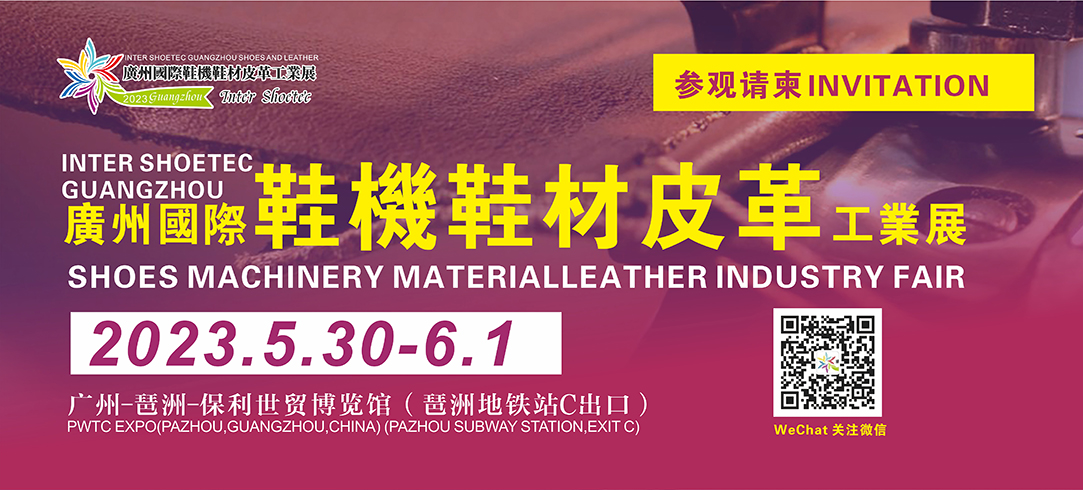 2023 Inter Shoetec Guang zhou Shoes And Leather
2023GuangZhou International Shoes Machinery Material Leather Industry Fair
5/30-6/1 . 2023


Exhibition Time:5/30-6/1.2023
Exhibition Address:PWTC EXPO(PAZHOU,GUANGZHOU,CHINA)
Exhibition Scale:40000+sqm
Exhibitor:500+(Estimate)
Organizers:Guangdong Shoe-Making Machinery Association
Wenzhou Shoe-Making Machinery Association
Guangzhou Guanglv Exhibition Co.,LTD.
INTER SHOETEC GUANGZHOU SHOES AND LEATHER 2023 Guangzhou International Shoes Machinery Material Leather Industry Fair is positioned as an indispensable platform form footwear and leather industry.Faching this challenging period,


Inter Shoetec Guangzhou Shoes Andleather 2023 will stimulate market recovery by offering aunique opportunity to make contact with a large number of new potential clients. Fair from all over the world have the opportunity to renew and deepen with visitors to boost their business and grow their global network.




Market survey

The last exhibition was successfully concluded on June 2, 2021 at Pazhou-Poly World Trade Expo in Guangzhou! More than 500 exhibitors from all over the world gathered together with their new products, new technologies and new equipment to compete for beauty! Showed the most cutting-edge products and industry trends for the buyers on the spot, and gained good results on the spot. From May 30th, 2023 to June 1st, 2023, we will continue to present you with a wonderful shoemaking industry event at Pazhou Poly World Trade Expo.
Diligent day and night, never slack off! At present, the leather industry of China Shoe Machinery has gone through the golden period of rapid development and entered the window period of the era of intelligence, automation and innovation. After three years of precipitation in 2020, 2021 and 2022, a large number of shoe machines, shoe materials and leather enterprises have laid a good foundation in technology and capital, which not only has the ability to resist adverse situations such as financial crisis and shoe enterprise outflow, but also has the technical foundation and technical strength to innovate and change. Following the global trend of intelligentization and automation of shoe-making and leather-making machinery, the proportion of independent research and innovation of shoe-making and leather-making machinery in China has surged, the technical content of products has increased, and the added value has also increased.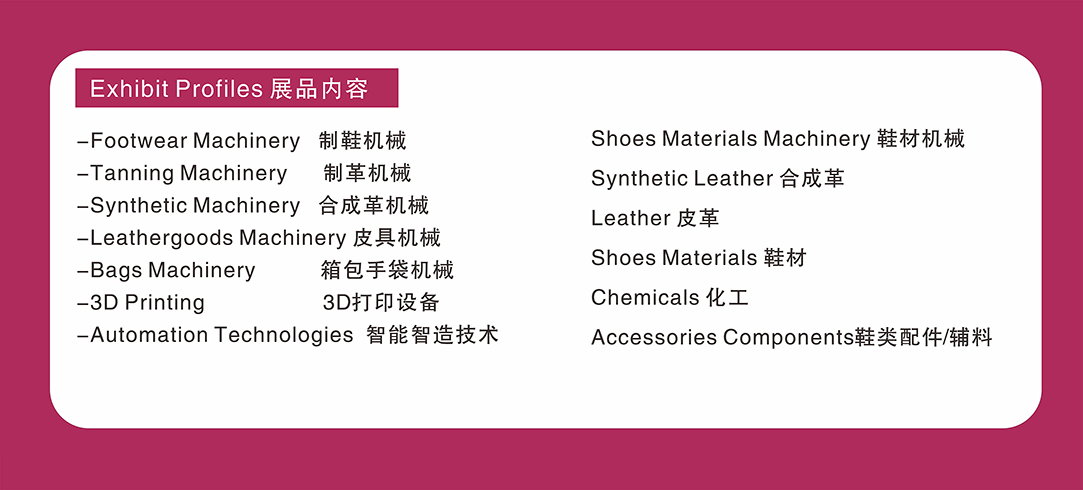 Exhibit Profiles:
-Footwear Machinery 制鞋机械

-Tanning Machinery 制革机械
-Synthetic Machinery 合成革机械
-Leathergoods Machinery 皮具机械
-Bags Machinery 箱包手袋机械
-3D Printing 3D打印设备
-Automation Technologies 智能智造技术
Shoes Materials Machinery 鞋材机械
Synthetic Leather 合成革
Leather 皮革
Shoes Materials 鞋材
Chemicals 化工
Accessories Components鞋类配件/辅料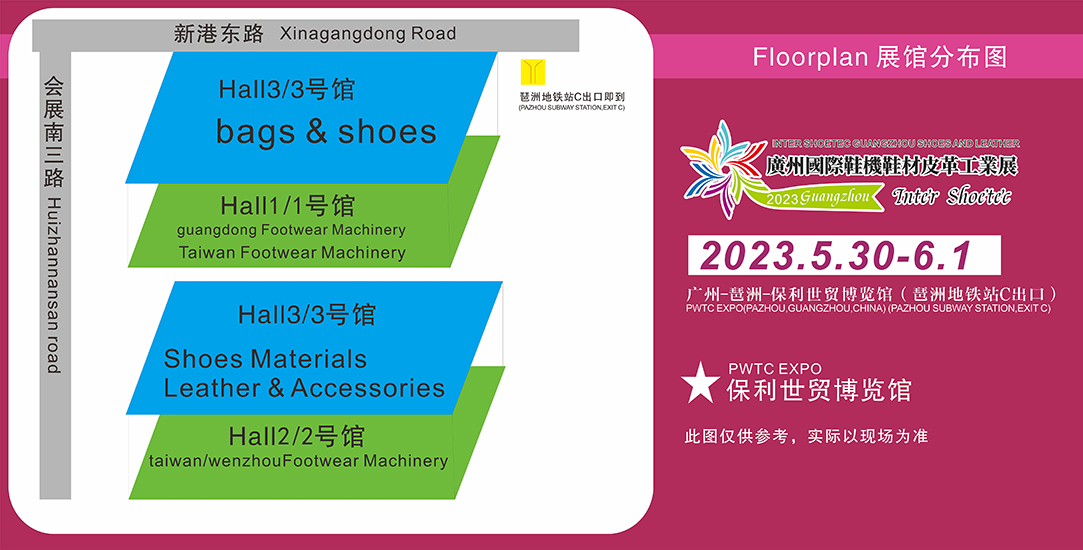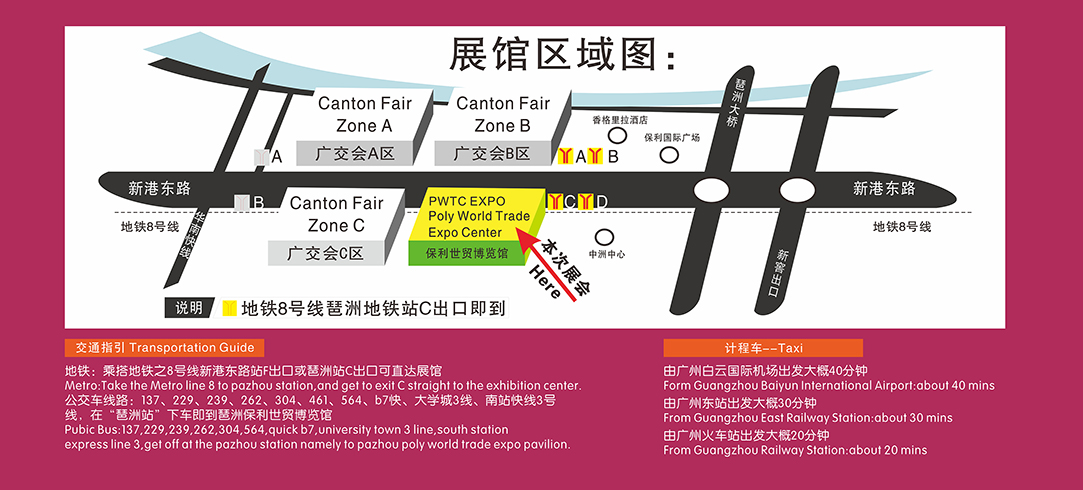 Well-known enterprises in the industry have appeared in succession, and shoe-making enterprises urgently need to participate in exhibitions to promote economic recovery after the epidemic.
In the last exhibition, we invited famous exhibitors in the industry (in no particular order): Xuqing Jinyi, Deshilong, Shenming, Zhongda, CB, Zhongren, Haiyu, Deyu, Juda, Haifeng, Jingong, Jinfeng, Wenmei, Jinjiu, Jinkai, Zhufeng, Xinjia, Lifeng, Shichuang, Dianliang, Rihe, and Shichuang. Enterprises such as Feiyue, Tengyulong, Mengcheng, Changqi, Jingneng, Henglian, Oumeike, Houjun, Dongrui, Taiwei, Kyushu, Yili, Supersonic, Jiesheng, Huakepu, Airshow, Hongzheng, Haifei, Bifu and Jinjiang Yitong came to the exhibition.
The epidemic situation in 2020-2022 for three consecutive years has also brought great impact to shoe enterprises. The badly hit market urgently needs more new products and technologies to lead the stable development of the industry. At this time, Guangzhou International Shoe Machinery Leather Industry Exhibition 2023 is the best platform for enterprises to publicize and promote the strength and new products of the company, and it is also an urgent need to restore order in the industry market. Enterprises appear at the exhibition in order to quickly occupy the "stagnant" and "blank" market after the epidemic situation is completely over. Grasping this opportunity, we can quickly open the market and win the future development when the industry recovers.
Organizer liaison office:
Guangzhou guanglv exhibition planning co., ltd
Visit inquiry:Tiffany Zhou +86-15018781229
Tel:+86-20-38810639
E-mail:1037272246@qq.com
Website:www.Slfchinafair.com